If you experience a jam, try the following first:
Pay attention to the way you deposit bills
The direction of the banknotes is preferably parallel to the hopper, and the upper banknotes of the banknotes need to crossing with the metal roller in the middle of the hopper of the IMC05(or Place the banknote parallel to 0.5cm away from the metal roller and hand up it on the Hopper), not tangent.
In this way, the banknotes can enter the banknote detector smoothly and orderly one by one from the bottom banknotes.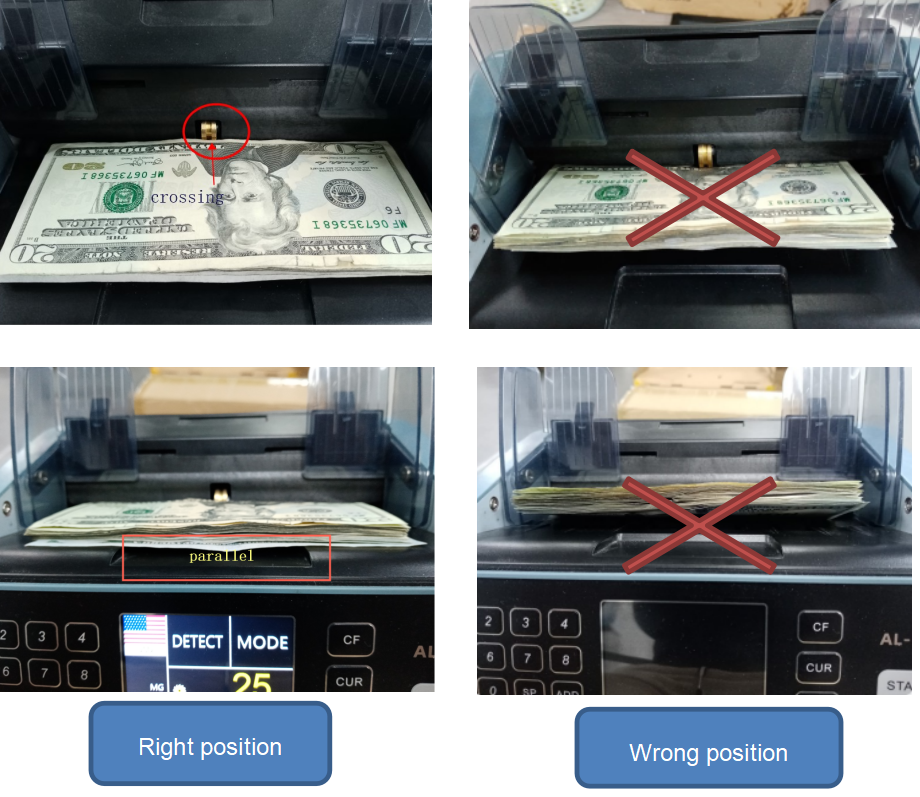 2. If Chain note Error shows on the screen, please adjust the feeding gap to tight by turning the two screws in the back of IMC05 to the tight directions.
Adjustment method:
1) Press and hold the START button, the banknote impeller rotates once, wait for 2s, and a beep is heard, indicating that the machine has entered the manual banknote feeding mode. At this time, only you can press the START button to make the banknote impeller rotate.
2) Ensure that the smooth part of the two pairs of rollers on the hopper is on the upper part.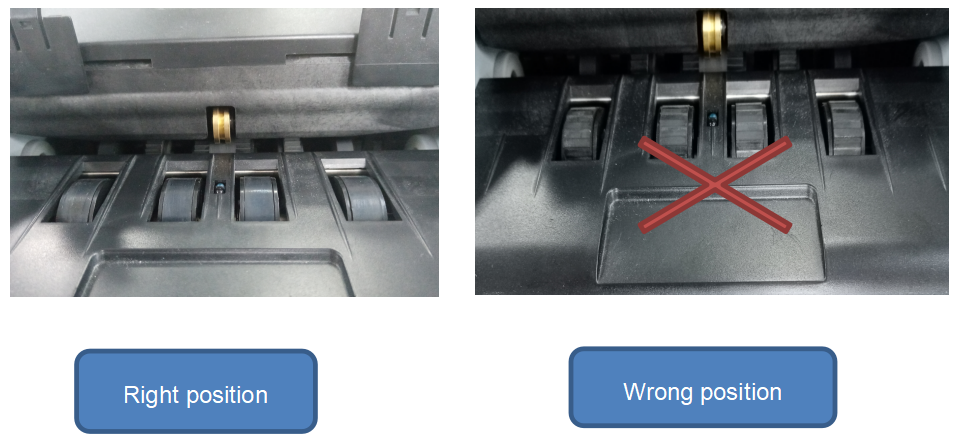 You can slide the scroll wheel with your finger to reveal the smooth parts.
3) Take a 1 USD (Euro) banknote and insert it into the banknote detector along the pair of rollers at the left end of the hopper. If the banknote can enter very smoothly and the shape of the banknote is not bowed, it means that the feeding port is too loose and needs to be adjusted tightly using a coin to turn counterclockwise the back screw.
4) Follow the second step on the right side as well.

5) The best state of adjustment is as shown in the figure above, and the machine runs 4 times and no chain not error occurs.
CAUTION: ALWAYS ENSURE MACHINE IS OFF BEFORE PUTTING HANDS/FINGERS NEAR THE PROCESSING WHEEL OR SLOT.
Dear MUNBYN Customer, contact us for further assistance,
E-mail: support@munbyn.com
Whatsapp: +8618144898200