The main reason is the printer did not recognize your label correctly, you need to follow the steps below to make the printer recognize your label again.
procedure of reset
1 Press the FEED (red/green light) button and hold on;
2 Release your finger when you hear the five "Di" sounds.
3 Then, you will hear another one long "Di" sound, which means the printer was reset.
Then, we can set the printer to calibrate the label size.
1 Turn on the printer;
2 Press the FEED button (red/green light) and hold on;
3 Release your finger when you hear one "Di" sound.
4 Then, the printer will automatically run back and forth to calibrate the label size.when it stops the process is complete.
Another reason may be that the printer is overheating when printing certain parts of the label, and you need to reduce the printing density of the printer.
Please set the Speed to "4" and density to "2" and print again. If your label is too light now, please increase the density by 1.
(1) On PC:
Go to Control Panel > Devices and Printers > Right-click on Munbyn ITPP941 > Printer Preferences > Page Setup
Adjust Speed / Density and click on OK.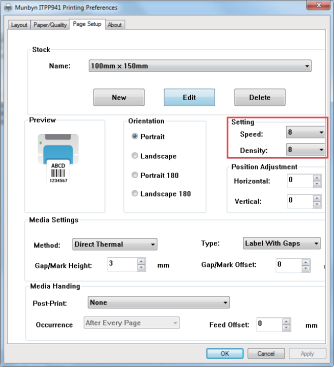 (2) On Mac:
Access these settings directly from the print menu as shown below.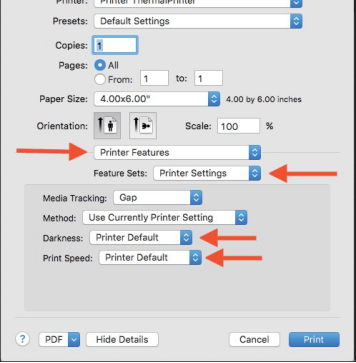 Secondly, please make sure you are using Munbyn original power adapter and power cord.
Simplify your packaging process with shipping supplies. Label holders make it easy to identify and switch out labels without removing them from their protective backing. A postal scale ensures accurate and consistent measurements for postage, saving you time and money. And honeycomb paper provides cushioning and protection for fragile items during shipping. These small investments can make a big difference in upgrading your packaging game!