ITPP941 prints by heating your label in very specific areas.
If the paper is jammed in your printer (usually when printing contents really dark like a barcode or a thick straight line), the possible reason is the print density being set too high, which causes the label to get too hot and get stuck to the print head. Various labels respond to the same level of heat differently.
Please set the Speed to "4" and density to "2" and print again. If your label is too light now, please increase the density by 1.
(1) On PC:
Go to Control Panel > Devices and Printers > Right click on Munbyn ITPP941 > Printer Preferences > Page Setup
Adjust Speed / Density and click on OK.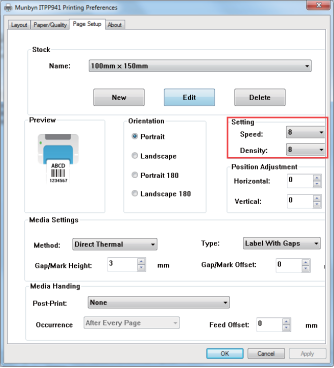 (2) On Mac:
Access these settings directly from the print menu as shown below.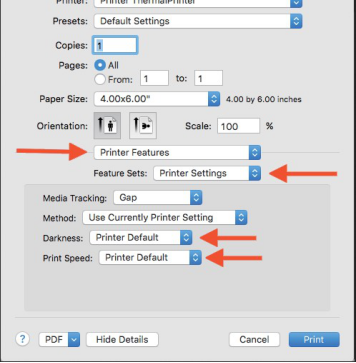 Note: After adjusting the density printing speed and density, you can follow the following methods to identify labels to ensure that the printer can print labels correctly.
①Load no less than 4 consecutive sheets of paper into the printer.
②moving, press and hold FEED (red/green light), and when you hear a beep, release the feed.
③The printer will learn the size of the paper at this time. After the process is complete, the printer is back to normal.