If a TD error occurs when the machine is turned on, it means that the internal circuit that controls the action of the flip plate is in poor contact. Please disassemble the machine to check if the TD Cable is disconnected according to this video : https://munbyn.biz/TDError
If the TD Error occurs during the banknote verification process, please perform the following troubleshooting:
- Check if the bill was stuck and remove the stuck bill according to this video: http://munbyn.biz/08billjamming
- Please turn off the power, open the back cover of the machine, and see if there are any stucked banknotes in the machine, then take out these banknotes.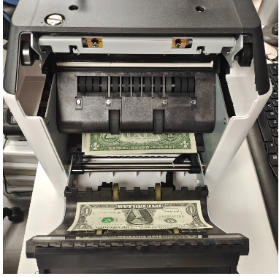 - Adjust the feeding gap screw counterclockwise to narrow the gap until a banknote can pass through with proper pressure. For the specific adjustment method, please click on the link:http://u.pc.cd/NHOctalK
- After the above adjustment, the TD Error caused by the internal banknote jam can be solved.
If there is no banknote inside, the IMC08 still has a TD Error during banknote verification. You can check the voltage change of the TD sensor. This is the operation video: http://u.pc.cd/sHz
1) After the flip action, the voltage of the TD sensor does not change, indicating that the sensor is faulty
2) After the flip action, the voltage of the TD sensor changes, indicating that the sensor is normal