Q1: Why after linking Wi-Fi, it already shows that the linked Wi-Fi has been saved, but the network is not available?
A1:It is recommended to connect to Wi-Fi where the signal is strong.
This situation shows that the Wi-Fi signal is very weak, and PDA does not connect to WiFi after several connections
Tips: You can test the PDA's WiFi connectivity using the mobile open hotspot
Specific steps.
Use another PDA or iPhone open data hotspot
Use a PDA to connect to the hotspot of the phone
Test if the WiFi still disconnects or fails to connect
If you are still unable to connect, please contact our technical staff for further assistance
Q2: When I need to connect to Wi-Fi, I can't search for a Wi-Fi signal
A2: There are two reasons for this problem
1) Weak WiFi signal
Please connect close to the router or use the SIM card data network
2)WiFi function is faulty
Please take 5 minutes to perform the following steps
Go to the Settings app
Touch System> Advanced > Reset options
Select Reset Wi-Fi,mobile&Bluetooth
Touch RESET SETTINGS
When finished back into WiFi search and reconnect

Figure 3- 2 Reset Wi-Fi connection
Q3: Why can't I access the network when I'm connected to Wi-Fi?
A3: Please check if the router is faulty and set the phone to static IP and DNS
Please take 5 minutes to perform the following steps
Go to Setting app
Touch Network & internet> Wi-Fi
Select the Wi-Fi you are already connected to
Click on the gear setting icon > Top right edit > Go to the Wi-Fi settings details screen
Click on Advanced options > Set IP to Static > Enter the IP address and DNS1
Select Save when finished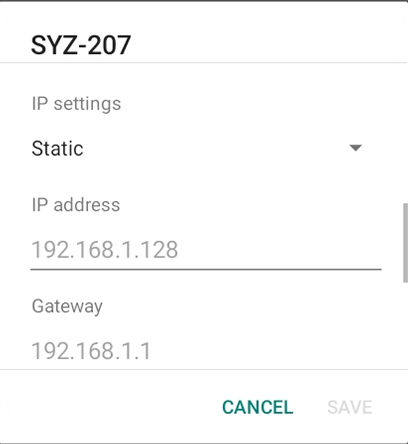 Figure 3- 3 Setting a static IP