If your printer can't cut the paper after printing, please do the troubleshooting below:
1、Please try to print a self-test page to check if the paper can be cut. How to print a self-test: Turn off the printer,Press the FEED button and hold Turn on the printer at the same time.,Release the FEED button after 2 seconds.
2、If the self-test paper can be cut normally, whichmeans the cutter is ok, please check if you enable the cutter function in your POS software. And this is the ESC/POS command to enable cut: 1D 56 42 00, you could use in POS software.
3、If the self-test can't be cut as well, you can setup with steps below.
①For models with DIP switch at the bottom: please check the number 1 switch.

②For models without DIP switch, you can go to the 'Advance' of the 'Setting Tool', open the "80 DIP setting", then enable the cutter.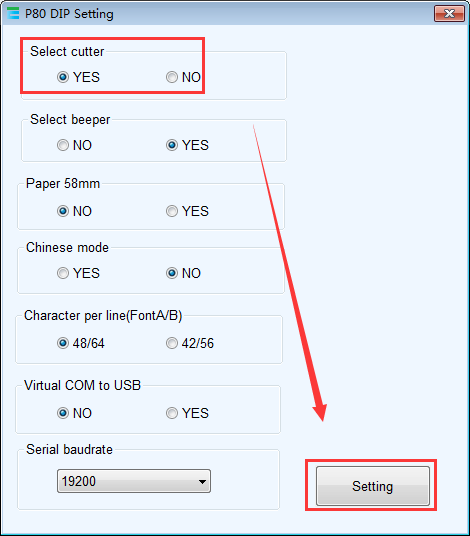 4、If the troubleshooting above can't help, it should be a hardware issue on the printer, please contact sellerby email or Whatsapp for further solution.