It might be possible that your 'Printer Spool' service choked on bad data and terminated, stop running correctly, or failed to start entirely (this is the case in safe mode). Corrupt data in the spool/printing tray might be causing this service to stop.
The other most probable reason for the printing error is the connection between your computer and the printer. If you are sure that the transmission cable is working okay (tested the printer on another computer), then the problem might be the drivers. This can be the printer drivers or the USB port drivers. The communication between the computer and printer is therefore scrambled
1. Check the Printer's Port Settings.
1)Please find the correct port first, and refer to the following steps
Steps:This PC (right-click)->Manage->Device Manager->Universal Serial Bus controllers->USB Printing Support->Details->Bus relations->USB00*.


At this point, you will see that the USB port assigned to the printer by Windows is USB00*
2)Please follow the steps below to modify it to the correct port USB00*
Steps:Setting->Device->Printers&Scanners->ITPP941->Manage->Printer properties->Ports->USB00*->Apply.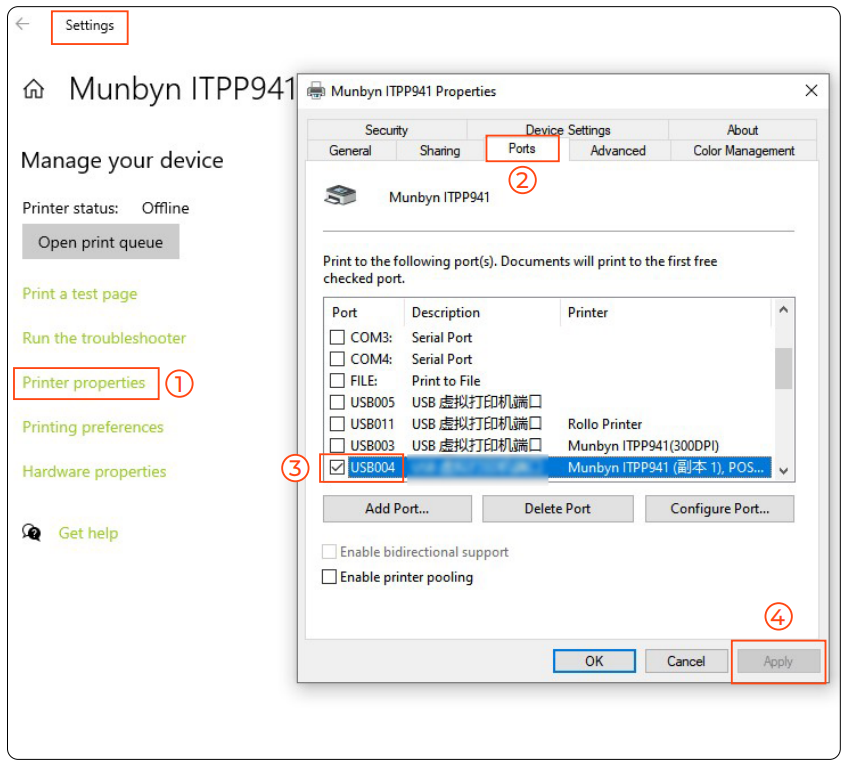 2. Restart the printer spool service and clear printing tasks
Restarting the printer spool service after clearing pending tasks can get things back on track.
1)Press Windows/Start Key + R to open the Run window
2)Type "services.msc" at the prompt which will open the Services window
3)Scroll down the alphabetical list in the right window pane until you come to the entry with the name "Print Spooler"
4)Right-click this entry, then select "stop". This will stop the computer from the process that holds your print queues.
5)Leaving that window open for now, click again on "Start", and then click "My Computer" to open a Windows Explorer window.
With a wide range of label sizes and styles available, our labels are perfect for shipping, inventory management, product labeling, and more. Whether you're running a small business or a large corporation, our thermal labels and shipping labels are the perfect complement to your existing thermal printer. Order now and experience the convenience and reliability of our latest label collection.