1. If you receive a product that cannot be turned on or charged, please check whether your device has a removable battery. If the battery of the device is removable, please open the back cover and tear off the insulation layer on the battery.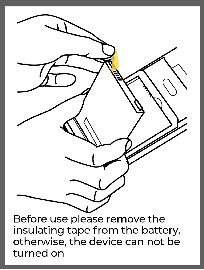 2. Due to the impact of long-distance transportation, the battery may enter sleep mode. If you receive that the device cannot be turned on, please charge it for half an hour and then try to turn it on.
3. If the device still cannot be turned on after charging for half an hour, please check whether it is a problem with the charging plug or the charging cable. Please replace another charging plug/charging cable for charging. If you have a charger cradle, Please use it for the charging test.
4. If the device battery is removable and you have extra batteries, please try to replace the battery and try again.
If none of the above actions restore charging/booting to the device, please contact the technical support team with your Amazon order number and the SN of your device.
SN means serial number which located on the bottom of the battery.