A: There are two reasons for this problem.
1). The scanning process is stuck.
Please restore the scan head, after restoration, the scanning app will restart to solve the stuck problem.
1. Go to Keyboardemulator App

2. Tap AppSettings

> Slide to the bottom > click Factory data reset.
3. Waiting for Reset.
4. Press the scan again when finished to test.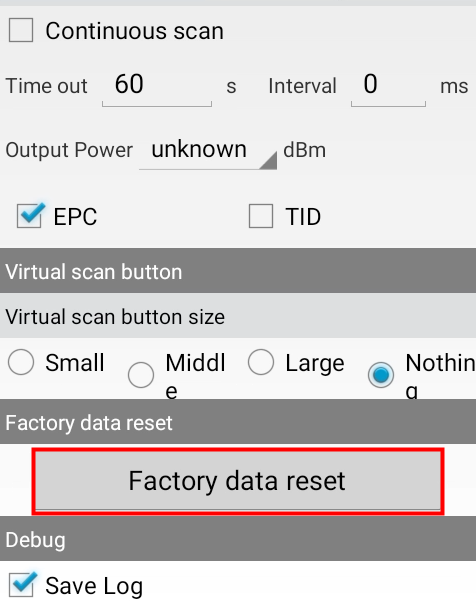 Figure1. Factory data reset
5. After resetting the scanner head, please check the "Function" page and make sure the scanner is enabled and KeyCode is correct, see the below video:
https://u.pcloud.link/publink/show?code=XZIE1DXZf4YYDcpRJKkiRdrk8E6mgLucsYsy
Note: Please select Barcode1D/2D based on your PDA version;293 is the KeyCode of the left side scan button; 291 is the KeyCode of the right side scan button; 294 is the KeyCode of the middle scan button above the keyboard; 296 is the KeyCode of the trigger on the handle. You can input the KeyCode by typing or pressing the button.
Figure2. Check if the settings are correct
2) Scanning head damaged.
If the light still does not come out after the previous 1) steps.
Please contact the technical team for support.