Problem description:
The message reads IMAGE BOARD ERROR and occurred after bills got lodged in the machine.
When the screen does go to the normal operating screen the Currency box is blank and when you push the currency button all the choices of currency are blank and they cannot be selected.
Steps to solve it:
1. Make sure every bill has been removed after opening all three compartments and clearing them manually.
Figure 1-1 Hopper
Figure 1-2 Bottom Drawer
Figure 1-3 Back Cover
2. Upgrade firmware:
Please download the firmware :http://u.pc.cd/C7e7
to your USB flash drive, and then upgrade according to the following steps.
1) Put the upgrade firmware(.APPU) into a USB flash drive with no other files.
2) Insert the USB flash drive into the USB interface. Make sure the power is off before inserting the USB flash drive.
Figure2-1 Power OFF
Figure2-2 Power On

3) Turn on the IMC01, and the machine will automatically recognize the upgrade file and finish it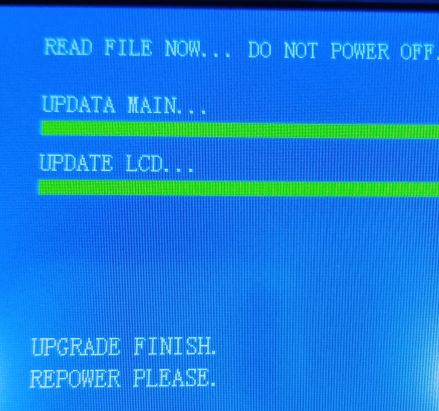 Figure2-3 Upgrade Finish
4) After finishing the programming, unplug the USB flash drive, turn off the machine and turn on.


3. If the above two steps cannot solve the problem, it means that there is a problem with the IMC40 motherboard. Please contact our after-sales team to help you replace the machine.
Dear MUNBYN Customer, contact us for further assistance,
E-mail: support@munbyn.com
Whatsapp: +86 181 4489 8200